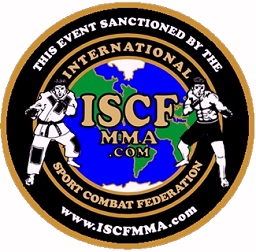 ISCF
Sanctioning Includes...
Here are just a "FEW" Things...
Neutral Recognition to your event by a Worldwide Sanctioning Organization that provides worldwide exposure to your event, your promotional organization (Cage Of Honor, Fight Party, Cage Rage etc. etc.) along with updated records which include upcoming events, news, fighter rankings and much more.


Our Sanctioning fees are all you pay. Not sanctioning fees "PLUS" Percentages of ticket sales etc.


The ISCF Sanctioning Fees are VERY REASONABLE for what we offer our promoters.


We do background checks on ALL Amateur MMA Fighters Registered for your event to assure they are truly AMATEURS. To Read more on this click HERE.


You can tell all your fighters on your event, both amateur and professional that they will be ranked in the official ISCF ranking system after your event.

The ISCF is the ONLY MMA RANKINGS for MMA Worldwide that lists ALL the Fighters Stats INCLUDING fighters contact info.

This is a excellent way for other MMA Promoters to find them for their events.



ISCF Sanctioning includes the advertising of your event on our ISCF web site News Page and our ISCF Upcoming Events Page before your event.


ISCF Sanctioning also includes the posting of your event results after your even on our ISCF News Page.


We separate each fighter into the proper weightclass on our worldwide MMA RANKINGS for easy matchmaking.


We are a NEUTRAL Sanctioning Body that supports all Mixed Martial Arts Promotional Organizations and we are VERY Different and offer FAR more than "ANY" other MMA Sanctioning body in the World!.


The ISCF has updated Pro AND FULL Amateur Rankings for Men & Women.


With the listing of each fighters CONTACT phone number with their ranking, any MMA Promoter can locate them for possible matchmaking WORLDWIDE regardless if their event is sanctioned by the ISCF or not.


We will assist when asked in your event matchmaking. From the smallest of non title bout Amateur events to major World Title bouts.


We oversee/witness EVERY fighters weight at the official weigh-ins. Not just the title fights.


We oversee/witness the entire event at Cageside or Ringside to assure bout fairness & that all rules and regulations are followed for the safety of all fighters.


We register all title holders on our ISCF worldwide web site within 1 week of their win and all other fighters and results within 2 weeks after every event.


We keep stats on every bout and every fighter on every ISCF event.


We will assist you to assure you have experienced and qualified ISCF Officials for your event.
SIMPLY PUT... We SUPPORT the Entire Mixed Martial Arts World.
Back To Sanctioning HOME Page Click HERE
HOME - EVENTS - NEWS - GYMS - RANKINGS - RULES - SANCTIONING - JOIN - REGISTER - WEIGHTS - CONTACT