FRIDAY, June 7th, 2019, AT 8:10 AM/ PST
June 7th, 2019
Sierra Madre Productions Presents
"ARENA WARS"
Puerto Vallarta, Mexico
ISCF AMATUER MMA IKF AMATEUR MUAY THAI TITLES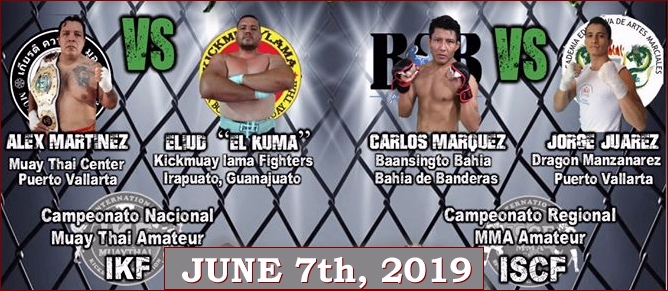 IKF & ISCF MEXICO Promoter: Felix Perez, felix152010@hotmail.com
---
WEDNESDAY, March 27th, 2019, AT 10:15 PM/ PST
Results From Florida Fight Foundation Inc's
"FX3 CAGE WARS"
March 23rd, 2019 - Lake City, Florida, USA
WHO: Florida Fight Foundation
WHERE: Columbia County Fairgrounds, Lake City, Florida, USA
WHAT: ISCF Amateur MMA
CHIEF ISCF OFFICIAL: Connie Barden
REFEREE: Josh Rutgers
JUDGES: Brian Joseph, Clint Black & TBD.
TIMEKEEPER: Jeannie Rutgers
PROMOTER: Mr. Jerry Coker At (386) 364-8888


ISCF AMATEUR MMA / 135
Chad Tunnicliff (Lake City Florida, USA, 0-1, 135, 6', 2-23-1998, Joel Nettles, 386-466-9516)
VS Klien Wong (Tampa Florida, USA, 1-0, 134, 6'2", 7-10-91, Lane Andrews, 352-262-9592)
WINNER: Klein Wong by Arm Bar at :37 seconds of round 1.
______________________


ISCF AMATEUR MMA / 135
Joshua Elliot (Tallahassee Florida, USA, 1-1, 136, 5'6", 10-9-93, Shane Weinschke, 850-508-1132)
VS Michael Cutter (Niceville Florida, USA, 1-3, 138, 5'7", 1-25-1998, Self, 850-582-6797)
WINNER: Josh Elliot by Triangle choke at 2:29 of round 2.
______________________


ISCF AMATEUR MMA / 155
David Thompson (Lake City Florida, USA, 0-1, 154, 6'1", 10-6-90 ,Joel Nettles, 386-466-9516)
VS Austin Fahad (Valdosta Georgia, USA, 1-0, 152, 5'8", 6-8-1995, Kamrin Naville, 229-356-7871)
WINNER: Austin Fahad by Rear Naked Choke at :44 seconds of round 1.
David Thompson received a 30 day Medical Suspension until April 22nd, 2019.
______________________


IKF AMATEUR IR KICKBOXING / 210
Nick Albrecht (Lake City Florida, USA, 0-1, 229, 5'11", 5-12-1987, Joel Nettles, 386-466-9516)
VS Michael Justice (Rockledge, Florida, USA, 1-0, 241, 6'7", 12-8-1991, Calen Holcomb, 321-652-5912)
WINNER: Michael Justice by TKO at :48 seconds of round 3.
Nick Albrecht received a 30 day Medical Suspension until April 22nd, 2019.
______________________


ISCF AMATEUR MMA / 170
Robert Russell (Lake City, Florida, USA, 2-6, 171, 5'7", 1-20-90, Joel Nettles, 386-466-9516)
VS Daniel Miller (Jacksonville, Florida, USA, 3-7, 170, 6'1", 4-23-91, James Smiley, 904-600-7909)
WINNER: Daniel Miller by Triangle choke at 1:07 of round 1.
______________________


ISCF AMATEUR MMA / 170
Jessie Long (Wellborn, Florida, USA, 0-1, 169, 6'3", 11-10-91, Self, 386-623-0804)
VS Bryar Burnham (Lake City, Florida, USA, 1-0, 162, 5'10, 9-9-00, Self, 386-288-5950 )
WINNER: Bryar Burnham by Rear Naked Choke at 2:15 of round 1.
______________________


IKF AMATEUR KICKBOXING / 210
Josh Brook (Miami Florida, USA, 6-9, 210, 6'1", 12-13-83, Dave Gomez, 305-992-1566)
VS Isaiah Washington (St Augustine, Florida, USA, 5-0, 215, 5'11", 5-24-95, Lorenzo Hunt, 904-540-6058)
WINNER: Isaiah Washington K0 at :15 seconds of round 1.
Josh Brook received a 60 day Medical Suspension until May 22nd, 2019.
______________________


ISCF AMATEUR MMA / 155
Bryce Brown (Jacksonville, Florida, USA, 1-1, 153, 5'9", 2-17-99, Self, 904-982-3781 )
VS Jose Gallegos (Valdosta, Georgia, USA, 2-1, 156, 5'9", 9-30-98, Kamrin Naville, 229-356-7871)
WINNER: Jose Gallegos Rear Naked Choke at 1:35 of round 1.
______________________


ISCF AMATEUR MMA / 155
Jordan Nash (Lake City, Florida, USA, 9-3, 155, 6', 1-14-97, Joel Nettles, 386-466-9516)
VS Sebastian Riverra (Milton, Florida, USA, 0-1, KB: 14-12, 154, 5'9", 7-22-90, Self, 305-397-6405)
WINNER: Jordan Nash by Unanimous Decision, 30-27, 29-28 & 29-28.
______________________


ISCF AMATEUR MMA / 145
Anthony Seagar (Valdosta Georgia, USA, 5-0, 147, 5'7", 6-7-00, Kamrin Naville, 229-356-7871)
VS Richard Chieppa (Jacksonville, Florida, USA, 2-3, 146, 5'6", 12-6-91, James Smiley, 904-326-9053)
WINNER: Anthony Saeger by Unanimous Decision, 29-28, 30-27 & 30-27.
______________________


---
FRIDAY, March 22nd, 2019, AT 9:25 AM/ PST



THIS WEEKENDS ISCF ACTION...
Florida Fight Foundation Inc Presents
"FX3 CAGE WARS"
Lake City, Florida, USA
WHEN: Saturday, March 23rd, 2019
WHO: Florida Fight Foundation
WHERE: Columbia County Fairgrounds, Lake City, Florida, USA
WHAT: ISCF Amateur MMA
CHIEF ISCF OFFICIAL: Connie Barden
REFEREE: Josh Rutgers
JUDGES: Brian Joseph, Clint Black & TBD.
TIMEKEEPER: Jeannie Rutgers
PROMOTER: Mr. Jerry Coker At (386) 364-8888


FIGHT CARD AS OF Tuesday, March 19th, 2019, 5:55 PM



ISCF AMATEUR MMA / 145
Cesar Gonzalez (4-0, 9-10-1984, Self) VS Anthony Seagar (Valdosta, Georgia, USA, 4-0, 8-7-2000)
______________________


ISCF AMATEUR MMA / 155
Jordan Nash (Lake City, Florida, USA, 8-3, 1-14-97, Hardcore MMA) VS Sebastian Riverra (Milton, Florida, USA, 0-0, KB: 14-12, 5'8", 7-22-90, Self, (305) 397-6405)
______________________


ISCF AMATEUR MMA / 155
Bryce Brown (1-0, 2-17-99, Self) VS Jose Gallegos (Valdosta, Georgia, USA, 1-1, 155, 9-30-98, ATT Valdosta)
______________________


IKF AMATEUR KICKBOXING / 210
Josh Brook (Miami, Florida, USA, KB: 6-8, 6'2", 12-13-83, Dave Gomez, (305) 992-1565) VS Isaiah Washington (4-0?, 5-24-95, Self)
______________________


ISCF AMATEUR MMA / 170
Jessie Long (0-0, 11-1-89) VS Bryar Burnham (0-0, 9-9-2000)
______________________


ISCF AMATEUR MMA / 170
Robert Russell (Florida, USA, 2-6, 11-20-1990, Hardcore MMA) VS Daniel Miller (Florida, USA, 2-8, 4-31-1991, Combat Athletix)
______________________


ISCF AMATEUR MMA / 155
David Thompson (0-0, 10-6-90, Hardcore MMA) VS Austin Fahaad (0-0, 6-18-95, ATT Valdosta)
______________________


ISCF AMATEUR MMA / 135
Josh Elliot (0-1, 10-1-93, Weinsckne Martial Arts) VS Michael Cutter (Florida, USA, 1-0, 1-25-1999, Self)
______________________


ISCF AMATEUR MMA / 135
Chad Tunnicliff (0-0, 2-23-90, Hardcore MMA) VS Klien Wong (0-0, 7-10-91, RMNU South Tampa)
______________________


ISCF AMATEUR MMA / 165
Brian Scott (0-0, 5-14-2000, Self) VS Chris Currie (1-0, 2-21-1988, Smiley's Academy)



---
WEDNESDAY, March 20th, 2019, AT 1:00 PM/ PST
UFC Fight Night 148
Stephen Thompson VS Anthony Pettis
Saturday, March 23rd, 2019
Bridgestone Arena, Nashville, Tennessee, USA

There are some connections some may not know between two top MMA contenders, Stephen Thompson and Anthony Pettis. The two meet up in a UFC match-up at UFC Fight Night 148 in Nashville, Tennessee this Saturday night. Lets look at how they compare and the similarities between the two.

To begin with, Anthony Pettis' trainer is former IKF World Champion and IKF Kickboxing / Muay Thai Promoter Duke Roufus of Milwaukee, Wisconsin. There's actually a Thompson - Pettis connection here...

Thompson's last high profile fight was against another Duke Roufus fighter, Tyron Woodley. As many noticed after their first meeting, which ended in a draw, Woodley had a major chip on his shoulder. As one fan put it, "He is in constant tug of war with himself." The majority watching had Thompson winning the fight, so a rematch was inevitable.

In the rematch, Woodley squeaked out a close majority decision victory, 48-47, 47-47 and 48-47. To many, because it was so close, fight fans were hoping to see a Woodley vs Thompson 3, but it would never be.

Eight months after their meeting, Thompson defeated Jorge Masvidal by unanimous decision. After Masvidal Thompson was once again met with bad luck, bad judging, controversy, whatever fight fans want to call it when he meet Darren Till of England, in England.

To begin with, Till missed weight coming in 3.5 lbs over the contracted max weight limit. Thompson had no desire to travel back home after coming all the way to England so he accepted the bout anyway. When all was said and done, the MMA media and critics called it some of the worst judging in MMA they had ever seen as the England judges gave the bout to Till by unanimous decision, 48-47, 49-46, 49-46.

Thompson hasn't fought since then so he's basically coming off a 9-10 month layoff.

Woodley fought 4 months after facing Thompson, defeating Demian Maia by unanimous decision. However, after seeing Thompson had lost to Darren Till in England, Woodley wanted to fight Till. Seeing what happened to Thompson, Woodley made it clear he didn't want to fight Till in England and have the same fate happen to him that Thompson was delt. Instead, they fought in Dallas Texas where Woodley would not let this one go to the judges anyway as he defeated Darren Till in round 2 by D'Arce choke submission.

Woodley took 6 months off before facing Kamaru Usman at UFC 35 in Las Vegas, Nevada. Sadly for Woodley, Usman defeated him by unanimous decision and with the win, took Woodley's UFC Title.

So who gets the next shot at Kamaru Usman and the UFC Title? Well, UFC has chosen to weed out the top contenders first.

Here we are, this weekend looking at a welterweight bout between former two-time title challenger Stephen Thompson and former WEC and UFC Lightweight Champion Anthony Pettis (21-7). However, this bout has an interesting tie in, and not just the one about Thompson facing 2 Duke Roufus opponents within a year.

The majority of MMA fans who know Thompson's also know his Karate background, simply because that's all everyone talked about when he came into the UFC. Thompson started training at age of 3 and first competed in kickboxing and karate at the age of 15. He holds Black belt ranks in Tetsushin-ryu Kempo, American Kickboxing and Jujutsu. He studies Brazilian Jiu-Jitsu under Carlos Machado who is also his brother-in-law. As a Kickboxer Thompson had an overall amateur and professional record of 58-0 before turning his focus to MMA.

However few may be aware that Pettis has also trained in Karate. Pettis started training in Taekwondo and boxing at the age of 5 and now holds a 3rd degree Black belt in Taekwondo as well as a Black belt in Brazilian Jiu-Jitsu. He has also trained in the Martial Art known as Capoeira and in Muay Thai.

One of Pettis best highlights is when he ran or jumped up on the cage fencing and did a flying kick off the cage to hit Benson Henderson with a head kick. Some claimed it was staged by both fighters, but that's an easy claim by critics who can't do such a move in the first place. Many others say the move enhanced his nickname, Anthony "Showtime" Pettis. - CLICK HERE.

The jump off the cage kick is not the only unique move for Pettis. He also has a cartwheel kick which has also become a trademark of his. This is all part of his surprise style of fighting which in many ways like Thompson, includes lots of he will often set-ups and fakes as well as dropping his hands and even sometimes dropping on purpose to his hands and knees to make himself look like he's at a disadvantage and then counter with something like a sitting kick to his opponent.

With both having vast experience in well known "High Kick" martial art styles, fight fans are hoping to see some explosive kicking skills from both fighters. However to add, Pettis is returning to Welterweight for the first time since 2008 to face Thompson so many are asking Why come up in weight? Does this work to Thompson's advantage? So far, a lot of folks are saying so. However, Pettis and Roufus must know something we don't cause neither of them would openly accept a fight, going in as an underdog... Lets not forget what one MMA site reported:

"UFC matchmaking has taken new dimensions in the advancing age of social media. Following a social media exchange between Anthony Pettis, who asked the fans if he should entertain a move up to welterweight to fight "Wonderboy", and the latter welcoming the offer, ESPN's Ariel Helwani has reported that a fight between the two has been verbally confirmed."

It seem's Pettis' coach, Duke Roufus though was the one who started the talkin when he went to instagram and posted;

coachdukeroufus • Roufusport MMA Academy
"How tall are you? So I can know in advance how far to step back when you fall down!"
One of my Favorite Pictures and Wins for @twooodley vs Wonder Boy because everyone said you couldn't. I am grateful for my father teaching & coaching me Karate, Tae Kwon Do and old school PKA Full Contact Karate/American Kickboxing. I also competed in Sport Karate from age 6-18 years old along with numerous years of being a nationally ranked fighter.
My 1st 4 years of Kickboxing Fights were under American Kickboxing Rules and my oldest brother Rick is one of the greatest Champions ever in that rule style.
I am excited to test our Martial Arts Skill Sets @showtimepettis I got your back with the play book and experience

Pettis' last fight in the Octagon resulted in a "Fight of the year" candidate with him being on the losing end. A loss to Tony Ferguson by TKO (corner stoppage) at UFC 229 this past October 6, 2018 in Las Vegas, Nevada.

As for trash talkin, it was clear in the Thompson - Woodley bouts, Woodley was the one talkin, Click here for a Heated Argument of Tyron Woodley vs Stephen Thompson UFC 209 ) and after their first match-up, he had very little, if anything respectful to say about Thompson. As for Thompson, he continued to be polite and show respect for Woodley as he has for every person he meets and or fights. Thompson gave Woodley far more respect in a game where outrageous actions like those of Conor McGregor seem to make far more headlines over doing good things as Thompson has been accustom to as an instructor at his families martial arts school.

His father, Ray Thompson isn't much of a "Smack Talker" either. More of a man of few words and lots of action when it comes to the fight game. The family owns and operates the largest martial arts school in South Carolina ( Upstate Karate ) with somewhere around 8 or 900 students. The growth and success of their operation is obvious as they just recently broke ground on a new "Mega" Martial Arts school to move to once completed.

Both trainers have had success in their own careers and their work ethic shows in the fighters they produce. Come Saturday night, their will once again be little talk out of the Thompson camp and although Pettis himself is a soft spoken martial artist, there's no doubt he will have plenty in his entourage that will speak loudly for him. Grab some popcorn boys and girls, this should be an exciting display of some excellent martial art skills...