June 11th, 2004


John McCain's
Connection To MMA

In the beginning of the UFC (Ultimate Fighting Challenge - Mixed Martial Arts), it was getting some big PPV numbers in the 200,000 to 300,000 range. Back then, those in the world of boxing took notice and got a little worried. Coming to their rescue back then was Senator John McCain (Right) or Arizona.
In 1996, McCain and his colleague Colorado Republican Senator Ben Nighthorse-Campbell wrote to the governors of all 50 states, calling UFC "a brutal and repugnant blood sport . . . that should not be allowed to take place anywhere in the U.S." Its pretty obvious knowing his support of the sport of Boxing that he surly didn't take it upon himself to go on a personal crusade to crush the UFC because he was 'worried for fighter safety'. It was MANY Peoples opinion back then that McCain got bought out by bigger pockets, those with a vested interest in boxing that is, and McCain used his political sway to pretty much knock Mixed Martial Arts (MMA) off of InDemand PPV. However, it pretty much backfired on him because his actions made MMA FAR BIGGER today and look who is getting the last laugh here...
THANKS JOHN!
SPECIAL OUTSIDE SOURCE: McCain was put front and center some years back by known MMA Supporter Eddie Goldman. In Goldman's eyes, MMA was being harassed. And he says the story behind the harassment is rooted in McCain's self-interest. It's about a conspiracy involving Senator McCain, professional boxing and Anheuser-Busch, the brewing company. Back then, here's how Goldman's theory worked:
McCain opposes MMA because it threatens the boxing industry's hold on the pay-per-view TV audience; boxing's largest corporate sponsor is Anheuser-Busch, whose second largest wholesaler in the country is owned by Jim Hensley, the father-in-law of Senator John McCain. Theoretically, says Goldman, what's good for boxing is good for McCain.
On his 1996 financial-disclosure form, McCain acknowledges owning between $1 million and $5 million in Anheuser-Busch Company stock, along with significant interests in Hensley and Company, his father-in-law's Anheuser-Busch distributorship.
Again and again, in interviews, McCain has played loose with the facts. He has vastly exaggerated the extent of the violence associated with MMA, and has refused to acknowledge rule changes and safety precautions that make MMA far less dangerous than it was when he first logged his complaints. McCain is no stranger himself when it comes to other contact sports. He was a boxer in the Navy, he's a follower of professional boxing and, in fact, no stranger to pugilistic violence. McCain was ringside at the 1995 boxing death of boxer Jimmy Garcia, he has seen the ultimate brutality of boxing and, yet, remains a fan.
THURSDAY, JANUARY 3rd, 2008



ANOTHER BOXING DEATH...
Korean Boxer Choi Dies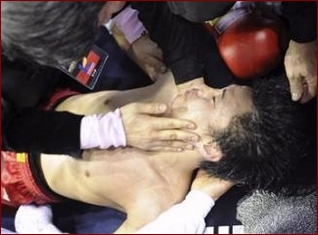 WBO Intercontinental Champion Yo-Sam Choi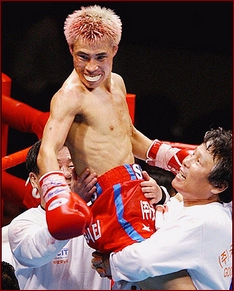 (L: Photo from 2002 - R: Colleagues help unconscious Choi Yo-sam) was officially declared dead following his removal from a life-support machine around midnight last night according to a report on the The Korea Times web site. He was 35.
Choi's death came after eight days in an injury-induced coma. He was reportedly certified brain dead Wednesday afternoon. Choi had been hospitalized after collapsing following a successful defense of his title against Indonesia's Heri Amol on December 25.
The Korean took a number of hard blows to the head during the action-packed fight and was dropped after taking a hard right to the jaw from Amol with five seconds remaining, but beat the count and went on to win the fight but collapsed after returning to his corner.
He was rushed to the Soonchunhyang University Hospital immediately after the fight and underwent emergency brain surgery for a cerebral hemorrhage but never regained consciousness. Choi died on January 2, 2007, when he was removed from a ventilator after being pronounced brain-dead.
Choi's brightest moment as a boxer came in October of 1999 when he beat Thailand's Saman Sorjaturong to take the WBC light flyweight title. He lost the championship belt to Mexico's Jorge Arce in a knockout loss in July of 2002 and also lost his bid for the WBA flyweight title against Venezuela's Lorenzo Parra in September of 2004.
According to the Journal of Combative Sport, for the period January 1890 to November 2007, the Collection describes:

14 deaths that occurred during Toughman-style Competition.
126 deaths (55 pro, 71 amateur) that occurred during Training.
293 deaths that occurred during Amateur Boxing contests (most of them sanctioned)
923 deaths that occurred during Professional Boxing Matches, plus the one above... 924.



The Death Toll In MMA...
Despite what critics like Senator John McCain want the public to believe, MMA has been and still IS, far safer than boxing. According to the Journal of Combative Sport, since MMA Started, there have been 4 documented deaths. Some would argue that there has only been 2. Still others yet, only claim 1 of the 4 below. For those of us voting for President later this year, lets remember that the Boxing loving McCain still wants MMA banned around the world, and if voted in as President, no one needs a crystal ball to foresee his desire for the sport on a National level.
April 14th, 1981: 15 year old Alfred Castro Herrera died by a KO due to blows from 16 year old Angel Luis Rodriguez at the Municipal Auditorium in Tijuana, Mexico.

This death is hard to be credited to the sport of MMA or Ultimate Fighting. It has never been confirmed that this was actually an MMA bout, just a wild, no rules fight. However, the MMA critics all wish to "Count" it as an MMA death, despite the fact that it happened more than 10 years before MMA was even a sport...



March 16th, 1998: Although 31 year old Douglas Dedge was unable to be medically cleared in the US due to a pre-existing heart condition, it didn't stop him from leaving the US for Ukraine for a fight. Dedge died due to brain injury by a KO in Kiev, Ukraine in an Unregulated & Unsanctioned Pro bout.

Dedge, who was from Chipley, Florida, had founded an MMA school in Enterprise, Alabama. He competed in one-off MMA and Toughman competitions around the southern United States until he developed a severe concussion and possibly cracked skull that led to numerous doctors telling him to take upwards of a year off from combat sports. Since Dedge fought as a career, he did not listen to medical advice. Friends later said he did not believe his head injury to be as serious as it was
Dedge's fatal bout occurred at the International Super Challenge in Kiev, Ukraine on March 16, 1998. The limited rules event was billed as a "Ukraine Against the World" contest and drew about 4,000 spectators. To field the opposition, labeled the "World Team," Minamoto circulated invitations on the Internet that guaranteed potential competitors travel and stay expenses, as well as $2,000 for fighting and an additional $3,000 to win. Dedge was one of three American fighters.
Facing Yehven Zolotaryov - Yevgeni Zolotarev, (a wrestler of local renown) shortly after the start of the fight, Zolotaryov had Dedge on the floor, face down. While he was lying there, half unconscious, Zolotaryov began trampling on him. Then he punched him repeatedly in the nape of the neck. He bashed him at the base of the neck about 14 times. The referee chose not to intervene. He seemed intimidated by the 4,000 crowd, who were screaming, "Kill the Yankee! Finish him off!" When Zolotaryov stood up, his chest was covered in blood and Dedge was unconscious. They carried him out on a stretcher and he was taken to hospital. What neither account disputed was that Dedge died in Kiev's Institute of Neurosurgery at 6:AM on March 18th, 1998. The chief emergency ward doctor, Petro Spasichenko, confirmed the obvious: Dedge cause of death was subdural hematoma and he died of severe brain damage. 'We consider his death a tragic accident that disturbs us greatly,' the event's organizer, Yuri Smetanin, said. Dedge reportedly had prior brain injuries, but did not stop fighting because of them. He had passed out in a training session leading up to the fight, but went through with the match anyway.
Soon after the fight, the US Consulate in Kiev asked the Ukrainian government to launch an investigation. The authorities initially chose not to, arguing that the main organizers, the Minamoto Club, would have disbanded rather than pay compensation. That would have left the government legally and financially vulnerable. However, they banned Absolute Fighting a year later. The Minamoto and similar clubs in Kharkov, East Ukraine, went underground - then took their competitions to Russia and Belarus.
What happened to Douglas Dedge was not an accident, whatever the protestations of the promoter. Yet nobody was charged, nobody was brought to account. After Dedge's death, the gloves went on and the action softened.
What would turn out to be regrettable hindsight, Dedge's death affected the acceptance of sanctioned mixed martial arts shows in America and also was one of the cited reasons that UFC co-founder and matchmaker Art Davie left the UFC, claiming the death would lead to the death of the UFC. He signed on to promote K-1 kickboxing events in the U.S. Man.... if he only knew the future...
Although the account above describes Dedge's death as brutal and barbaric, there was another account we found about the incident. It can be read by clicking HERE.
Another account of the incident can be found on wikipedia.org by clicking HERE.



May 12th, 2005: 35 year old Lee ?, died by a KO in Samsong-dong, South Korea.

The bout took place at a live sports bar near Seoul. No physical exams were done, and Lee had not participated in matches in a year. Cause of death was listed as myocardial infarction (Cardiac). This was an Unregulated & Unsanctioned Pro bout. Adding to this, there has been some questions as to the reality of this "Counted" MMA Death. No full name has ever been publicized for this fighter, and there was never any extensive press on the issue leading many to question, "Was this an actual MMA bout?"



Event date - October 20th, 2007: 35 year old Featherweight (145-lb) Sam Vasquez died by a KO in Houston, Texas, USA.

Vasquez had not competed in about 13 months. He was hit repeatedly in the head and the bout was stopped. He stood up, then collapsed without losing consciousness. He was taken to the hospital. On November 4, 2007, surgery was done to remove blood clots on the brain. On November 9, 2007, he had a stroke, and he died on November 30, 2007.
By Dave Meltzer, Yahoo! Sports - December 2, 2007: Sam Vasquez of Houston may have become the first fighter to die from injuries sustained in mixed martial arts competition in North America. A report by The Fight Network cited the Harris County (Texas) medical examiner's office confirming Vasquez's death at 8:15 PM, Friday. The cause of death was not released. Vasquez had been battling for his life since taking a hard right to the chin from 21-year old Vince Libardi on Oct. 20 during a Renegades Extreme Fighting show at the Toyota Center in Houston. The blow knocked Vasquez out and he was rushed to St. Joseph Medical Center, where he stayed until moving to hospice care on Monday. The 35-year-old Vasquez was competing in the featherweight division (145 pound weight class) in the third match of a 12-match card promoted by Saul Soliz, the longtime boxing coach of Ultimate Fighting Championship superstar Tito Ortiz. The show was overseen by the Texas Department of Licensing and Regulation. Calls to the department on Sunday were not immediately returned. After taking a flurry of punches from Libardi, Vasquez collapsed in the ring and the fight was waved off at 2:50 of the third round. Emergency medical technicians worked on him in the ring for several minutes until he suffered what appeared to be a seizure and was rushed to the hospital. Vasquez's condition worsened from there. On Nov. 4, two weeks after being admitted, he underwent the first of two surgeries to relieve the pressure of a large clot in his brain, then had a massive stroke on Nov. 9 and was placed in a medically induced coma.
Vasquez, who had a seven-year-old son, came into the match with a 1-1 record, and had not fought in 13 months. Libardi, 14 years Vasquez's junior, entered the match with seven pro fights and 10 rounds of action over three fights in the time since Vasquez had last fought in Sept. 2006.
"There was nothing out of the ordinary," Paul Erickson, who was at ringside taking photos, said in an interview with The Fight Network. "They scrambled and hit the cage. Sammy stood up and looked a little wobbly. Then he went down and the referee called the doctor in. It didn't seem like anything was out of the ordinary. Sammy was winded and looked exhausted, but he wasn't unconscious when they carried him out. Everyone was puzzled at the time because no one could tell when or where he was injured."