PAST ISCF NEWS FOR
October - November
2001

ALL News Found On THIS PAGE Or ANY of Our ISCF RINGSIDE NEWS Pages May Be Reproduced for Media Use At No Charge.

CURRENT ISCF NEWS - PAST ISCF NEWS
WEDNESDAY, November 21st, 2001, AT 6:30 PM PT
PROMOTER MORRIS YOUNG
"IS THE MAN!!!"
SKELTON Retains His IKF World Title On Young's Mega England Event!!

Last Sunday night, November 18th, IKF and ISCF England Promoter Morris Young (Right... wish we had a bigger picture of you Morris) showed everyone in England what "MEGA" Promoting is all about! Young put together one of the greatest nights of kickboxing ever in England at the dynamic Derngate Royal Theatre in North Hampton England. It was like a signature of a K-1 Production with pyrotechnics, fire lights, lasers, fog rolls and more, all topped off with an IKF Super Heavyweight MTR World Title Fight. It was a night scheduled for spectacular entertainment for everyone!
However before the light show and fireworks would be launched there was some re-organizing to be handled. On his way to the event, IKF World Referee

John Blackledge (Right) was in a car accident and instead of checking into the ring, he was checked into a Hospital instead. It was reported later that he was doing fine which we were glad to hear. Also getting caught up in yet another accident on the M-1 motorway was the event doctor and several fighters. The delays caused plenty of stress for everyone involved in the event but the North Hampton England crowd was greatly patient for everything to get going. Finally the event doctor arrived but we were still short many fighters. Enter IKF European Coordinator Mick Fowles who had to work some quick matchmaking magic to make a card out of the fighters who were able to make it to the event. Along with IKF European Director Alby Bimpson and Jacqui Thompson, the three put together the entire undercard in a matter of under an hour and after the doctor finished all physicals, we were ready to ROCK! Or should we say, "Do War!" Since this was "Jungle WARS V!"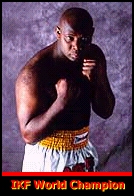 Prior to the night, Young had organized a brilliant card with 22 bouts in all. These bouts included 8 ISCF Title bouts and 8 IKF Title bouts along with of course, the Main Event. The IKF Super Heavyweight World Title Defense for IKF World Champion Matt Skelton. (Right)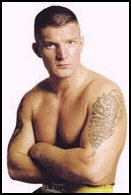 However, after re-organizing the fight card due to the no-shows because of traffic and other issues, the event came down to only 3 IKF Title bouts plus 1 IKF World Title and only 2 ISCF Title bouts. Filling in for Referee John Blackledge would be IKF Referees Clive Tennant and Mick Fowles.
In his defense, Skelton (43 wins, 8 Loses with 37 wins by KO) faced Peter Varga of Budapest, Hungary. (Left, 29 wins, 9 Loses, 1 Draw with 22 wins by KO) Varga weighed in at 105kg (231 lbs) while Skelton came in at 110kg (242 lbs) These two were big boys and sure to throw some heavy shots. However in round 1, it appeared neither took any great advantage in the bout, keeping apart and picking their selected shots.
It was in round 2 where a difference between the two emerged when they moved to the inside game. While in the clinch, it appeared Skelton had the edge in strength in regards to knees that landed. Although strong himself, Varga took more than he gave while in close as the extra 5 kg's (11 lbs) seemed to help more a bit, along with his MuayThai experience and technique. As round 2 ended, it appeared Skelton knew where his strength would be to take this fight to the next level, a 43rd win and possibly his 37th KO/TKO.
As round 3 started, Skelton moved to the clinch quickly where he scored repeatedly with knees. However, as the two broke apart, Varga appeared to hurt his knee. Referee Mick Fowles stepped in to stop the action and have the ringside doctor look at it. The doctor advised Varga to stop if he couldn't put weight on it and as he tried, there was just too much pain. It wasn't how Skelton wanted it to end, for that matter, none of us. But a wins a win and with very little excitement in it all, Skelton successfully defended his IKF MTR Super Heavyweight World Title by TKO at 53 seconds of round 3.
As previously mentioned, the 9 IKF Title bouts became 4 and the 8 ISCF Title bouts became 2 because of all the traffic problems, but the show still went on with a total of 12 exciting bouts. Here's a quick rundown of the other 11 bouts on the night...
IKF Pro FCR: Starting off the night, Daniel Kennedey (64kg, England) defeated Ian Keech (64kg, England) by unanimous decision, 29-24, 29-24 and 29-24. Keech took a standing 8 count from referee Clive Tennant after a head kick in round 1 and missed his minimum kick requirement (8) in rounds 1 & 3. Kennedey also missed his kicks in round 1. Missing kicks is not a usual thing in Pro Full Contact but as you will see, this was a problem throughout the night with many of the Pro fighters.
ISCF Light Heavyweight British Title: Craig Wilson of Scotland made quick work of Shain Tovell of England as he put a stop to the bout when he made Tovell Tap Out from an armbar at 1:10 of the first round.
IKF Woman's Pro English Title: Lisa Jones (65kg) had little trouble with the less experienced Susie Parsons (64kg). On paper and looking at the records, this probably shouldn't have been for a title bout. However both showed plenty of heart and guts averaging over 16 kicks per round each over the scheduled 5 round bout. In the end, Jones won the title by unanimous decision, 50-47, 50-47 and 50-45.
ISCF Heavyweight British Title: There was plenty of heart and guts in this bout as Lee McGuiness of England and Andy Callaghan of Scotland battled for 3, 5 minute rounds. In the end, neither had even come close to a tap out and the bout was ruled a draw by the ring referee.
IKF Pro FCR: Steve Much (91kg) of England had more to be excited about other than just a points decision win Sunday night over Alan Brown (88kg) also of England. Neither Much nor Brown did a lot of kicking (Brown missed his kicks in all 3 rounds, Much in round 2 and barely made the minimum 8 in round 1) but it wasn't kicks that were going to win this one. Much landed a strong punch that dropped Brown in round 2 which should have been an 8 count but referee Clive Tennant didn't give one as Brown rose up quickly. However the mistake wouldn't repeat in round 3 as Much connected to Brown's head again with a strong right hand. A second knockdown in round 3 stopped the bout just short of the bell at 1:57 giving Much the win by TKO.
IKF Pro FCR: Andrew Zavaronco (69kg)of England was one of the great standouts of the night. This 21 year old was IMPRESSIVE! His punches were straight, tight and crisp and it appeared as if Zavaranco had been in a hundred boxing matches. However this was only his 4th bout and he took it to Steve Bowler (68kg) also of England. Zavaronco dropped Bowler in the second round with front kick and then dropped him again with a left hook. In round 3, Zavaronco dropped Bowler for the final time, a shot to the forehead at 1:44 of round 3 and the bout was over. Zavaronco is someone to watch out for in the highly contested Light Middleweight Division. We look forward to seeing more of this guy!
IKF Pro MTR: Narginder Gill (73kg) of England has probably some of the most colorful cornermen in the business. His trainer, Nigel Thompson and company looked like a Brilliant Hollywood Show in their Outstanding Purple Cornerman uniforms with gold and red trim. Man, these guys looked like the REAL Pro Show! Their fighter, Marginder Gill looked just as good as he won his 3 round decision over Lee Willis (75kg) also of England, 30-27, 30-27 and 30-28. Gill's work with the knees in the clinch would have made Mr. IKF MuayThai, Fred Fitzgerald very excited!
IKF PRO FCR: Although neither of these guys were getting their kicks in, Leroy Brown (95kg) of North Hampton, England still managed to pull out a win over Mark Greener, (102kg) also of England, 28-24, 28-24 and 28-24. Brown was the only one of the 2 to make his kicks in any of the 3 rounds which he did in round 2. In all, Greener only kicked 11 times in all 3 rounds to Brown's 17... Kick guys, KICK!
IKF Pro FCR: This was a WAR! After 2 rounds of non stop action, James Wolting (80kg) came away with a TKO win at :41 seconds of the 3rd round when it appeared he broke his opponent, Adam Dove's (80kg) nose. At the stop, Wolting was ahead on all the judges cards, 20-19, 20-18 and 20-18.
IKF Pro MTR: Liam Robinson (64kg, 18) of England had more to worry about than just the fighting skills of his opponent. He had to deal with Schefield, England's Richard Golland's (66kg, 23) dirty fighting as well. Golland was deducted points for dropping a knee into Robinson's chest as they were getting up from the mat after both falling. He was deducted a point for an illegal elbow strike (No "Downward" elbows were allowed under the agreed rules) and probably should have been deducted more points for several other dirty moves such as shoving Robinson in the face after several breaks. It was plenty for referee Mick Fowles to deal with. At the break of one round, Robinson even accused Golland of biting his ear in the clinch. It was clear Golland was looking for a way to win because Robinson out-skilled him in every round winning the bout by unanimous decision, 30-26, 30-25 and 30-25.
IKF Pro FCR English Heavyweight Title: If intimidation could win bouts, England's Chris Ballard (98kg, -215lbs- 6'3) had won this bout before he even stepped into the ring. Ballard's colorful explosion of physical aggression had everyone in the room glad they weren't facing him in the ring. However, this pleasure wasn't granted to everyone. North Hampton, England's Dave Sharp and Ballard had met before (Ballard won) and if anyone were the right man to face Ballard, Sharp was him. Maybe not so much on skill, but more so because Ballard didn't intimidate him at all, at least, so it appeared... At 5'9' and weighing in under the title limit (came in at 87kg -191.4 lbs- 5'9") Sharp had a mountain to climb to all of us watching from ringside. However, Ballards bark was bigger than his bite when it came to his kicking skills. Although he made 12 kicks in round 1, Ballard only made his kicks again in round 3 (8) and missed his kicks in rounds 2, 4 and 5 (7, 5 & 6) However, if Sharp would have made his kicks, we might have ended this bout in a draw, or at least close to it. Sharp missed his kicks in rounds 1-4 (5,6,5,2) and only made them (10) in the final round. In the end, Ballard took the win and the IKF FCR Pro English Heavyweight title with a unanimous decision win, 47-41, 46-43 and 47-41.
IKF Pro MTR Super Heavyweight Title Defense: Matt Skelton, England defeated Peter Varga, Hungary by TKO/Doctor stoppage (Knee Injury) at 53 seconds of round 3.
For more info, contact Rough & Ready Promotions and Mr. Morris Young at 01604 475 488 or by e-mail by clicking this link: HQ@fbis.co.uk
---
THURSDAY, November 15th, 2001, AT 3:30 PM PT
"8" ISCF Titles In
ENGLAND!
Skelton To Defend IKF World Title In England
IKF MTR Super Heavyweight World Champion Matt Skelton will defend his IKF World Title this Sunday night at the Derngate Royal Theatre in North Hampton England.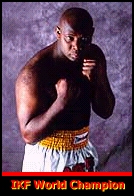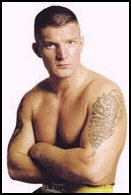 The event, "JUNGLE WARS 5" will be promoted by IKF and ISCF Promoter Morris Young and his Rough & Ready Promotions staff. Skelton of Bedford, England (Left, 38 wins, 5 Loses with 30 wins by KO) will face challenger Peter Varga of Budapest, Hungary (Right, 29 wins, 8 Loses, 1 Draw with 22 wins by KO)
The event will also feature lots of ISCF action as well as Young will host a total of "8" ISCF Title bouts. They include;
ISCF Light Welterweight British Title
ISCF Light Middleweight English Title
ISCF Middleweight English Title
ISCF Middleweight British Title
ISCF Light Heavyweight English Title
ISCF Light Heavyweight British Title
ISCF Super Heavyweight English Title
ISCF Super Heavyweight British Title
For more event inco contact Rough & Ready Promotions and Mr. Morris Young at 01604 475 488 or Mr. Alby Bimpson, IKF European Director at 079 60 870 967 or by e-mail by clicking HERE.


---
MONDAY, November 12th, 2001, AT 7:45 PM PT
Steibling Wins Big!
ISCF's #2 ranked Pro Light Heavyweight, Alex Steibling of Indianapolis, Indiana, USA, WON the 16 man tournament at the IVC Venezula show. Steibling took out 4 Brazilians, 3 by submission and one by a 5 second KO roundhouse kick! ALL in one night!!! From where were sitting, we see a big match coming up between #1 Serrano and #2 Steibling, possibly for the vacant ISCF National Title! All we need is the promoter to "Make It Happen!" Any takers...?
---
THURSDAY, November 8th, 2001, AT 2:20 PM PT
Amateurs DO NOT Get Paid!
Read all about it by clicking HERE!
---
FRIDAY, October 26th, 2001, AT 4:00 AM PT
FIGHT TALK ALA THE DOCTOR
Editor's Note: The enigmatic specter of The Doctor, looms prominently over the Southeastern fight scene. Recognized for his professed "tremendous capacity for derivative knowledge", The Doctor's fight picks have become as widely renowned for their accuracy, as for the controversy they generate. Although The Doctor expressed regrets that his "professional responsibilities currently weigh heavily and prevent me from providing fight aficionados with what they truly yearn for, namely, my predictions", he was able to provide some of his insights to Reality Super Fighting's, New Blood Conflict II, an ISCF sanctioned mixed martial arts fight card to be held in Augusta, Georgia on October 27, 2001.
The Doctor ON The Doctor
"At the outset, I must initiate my piece by expressing my sincere gratitude for the outpouring of support my prosaic endeavors have received. I wish to thank in particular those dedicated souls from the Classic City who have strode so diligently to keep my name and nearly flawless selection record alive and well on the Internet. Your efforts are deeply appreciated and have encouraged my continued prognostication."
ON THE MAIN EVENT
Dan Severn vs Forest Griffin
"Despite my well-known affinity for the Hardcore Gym, which is due in no small part to its apparent and sincere devotion to this writer, I believe that the Beast will bring Griffin's unbeaten streak to an abrupt halt. In Griffin's outings to date, he has yet to encounter a true wrestler, and this, alas, shall be his undoing. Despite Griffin's youth, physical skills, enthusiasm and outstanding instruction at the Hardcore Gym (please note I have, again, refrained from comment about "that website"), I see this bout degenerating into a takedown and control "snore fest," with Severn dispatching Griffin to the canvas, holding his superior position, and doing little more to earn the win than 'riding the clock'." The Doctor's Pick: Severn by unanimous decision.
The Doctor ON RSF
"It has been a privilege for me to help serve the MMA community in the CSRA over the years. I am also glad to have assisted Jamie Levine in his efforts to procure counsel and continue to draw positive attention to this community. Levine has helped infuse capital and notoriety to the Augusta area by bringing top flight MMA to the CSRA. I wish him continued success."
The views expressed in the foregoing column are strictly those of The Doctor. They do not represent the feelings, thoughts, or expressions of the Valdosta Martial Arts Center, IKF, ISCF, RSF, and/or any of their representatives, employees, and/or assigns, including but not limited to Jamie Levine, Renee Rosensteel, James Corbett, Steve Fossum, and/or Mike Carlson.


---
THURSDAY, October 25th, 2001, AT 9:15 PM PT
"Reality Super Fighting 5...
New Blood Conflict"
NHB Mega-Battles! THE BEAST! MTV Event! and MORE

Reality Super Fighting (www.realitysuperfighting.com) announces its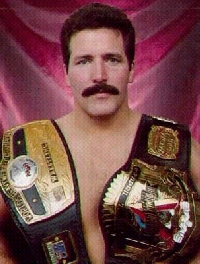 next mixed martial arts event, NEW BLOOD CONFLICT II which promises great fights and much more. These no-holds-barred cage fights will be held at the Bell Auditorium in Augusta, Georgia, USA this Saturday night, October 27, 2001. The main event features the legendary Dan THE BEAST Severn (Right) against Georgia's own Forrest Griffin.
Along with world-class fights, this event will also be the subject of media excitement as Johnny Knoxville, of MTV's hit show "Jackass" steps into the cage in a special match against the Reality Super Fighting Light Weight Champion and ISCF LightWelterweight World Champion Din Thomas.(Bad idea for Johnny, but consider the name of the show.)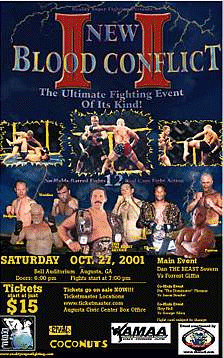 Also, independent film producer, Bobby Razak will document the event for the sequel to "Rites of Passage". "Rites" gained international recognition by being selected as part of the prestigious Sundance Film Festival. Fans can look forward to professional bouts including a fight featuring Din THE DOMINATOR Thomas, (Right) against Ohio's Jason Bender. Thomas is ready to go, having just come off of a big win against Fabiano Iha in the "Ultimate Fighting Championships" in Las Vegas. Thomas was originally slated to fight Rich Clementi. Clementi's camp failed to adhere to contract stipulations, forcing the loss of the opportunity for Clementi.
Georgia will be well represented in this event with local heroes including Forrest Griffin, Mike THE RHINO Farrow, Jack THE RIPPER Nilsson, George Allen and Cam McHargue entering the octagon. Fifty-seven-year-old Skip Hall from Alabama will take on Florida's Charlie Anderson in a featured heavyweight bout. In a just-signed bout, John Dixson will go up against Wade Rome in a super heavyweight bout. Dixson is the WEF Super Heavy Weight Champion and has been since 1999 with a win over Tom Sauer. His title carried over to the RSF. Wade Rome also fought Sauer in '99, but was defeated. Since that loss,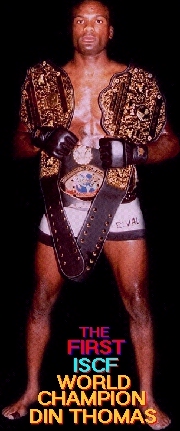 Rome has been making a name for himself in the grappling world and the BJJ torns.
Reality Super Fighting is also proud to announce the debut of Christina Jarrell, spokes-model for Reality Super Fighting. Tickets can be ordered now at ticketmaster locations or online at www.ticketmaster.com. General admission seats start at just $15. This event is sanctioned by the International Sport Combat Federation (ISCF).
THE CARD
Dan THE BEAST Severn vs Forrest Griffin
Din THE DOMINATOR Thomas vs Jason Bender
Wade Rome vs John Dixson
George Allen vs Brian Vanderwalle
Mike Newton vs Nigel Hudson
Brett Hogg vs Dan Bobish
Jack Nilsson vs Kevin Brooks
Skip Hall vs Charles Anderson
Mike THE RHINO Farrow vs Stew Halsemyer
Charles KRAZY HORSE Bennett vs John Weidler
PRELIMINARY MATCHES
Muhsin Corbbrey vs Harvey Sutton
Cam McHargue vs Ahron Davis
EVENT: October 27, 2001 7:00 PM at the Bell Auditorium, Augusta, GA. Promoter: Mr. Jamie Levine, President, Reality Sports Inc.
Event Sponsors: Augusta Academy Of Martial Arts, Coconuts Nightclub in Augusta, Comfort Inn Suites: Call the Comfort Inn on 1415 Walton Way in Augusta for special room rates for fight fans. 706-722-2224. Kinko's, Orlando, FL, Oano Gloves, (www.ouano.com) Reality Sports Inc., Rival Fight Gear.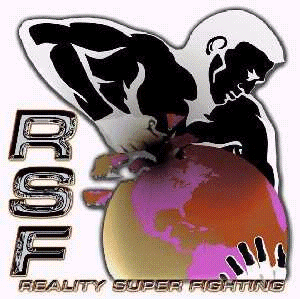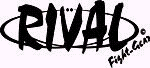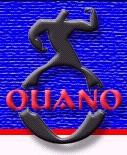 ---
WEDNESDAY, October 24th, 2001, AT 11:50 AM PT
Official RESULTS From
CAGE RAGE III
Kokomo, Indiana, USA
Single Bout: York Ash over Josh Mason 2:47 2nd Round, ref stoppage to prevent injury.
Single Bout, Policeman vs Fireman: Aaron Sullivan (P) over Jeremy Brown (F) 3:13 1st Round, tapout by punches.


Lightweight Tourney: Prelim #1: Carlos Perez over Kane Coombs 2:30 1st Round, tapout by choke.
Prelim #2: Kevin English over Cyriss Christy 1:03 1st Round, tapout by punches.
FINALS: Kevin English over Carlos Perez 3:04 3rd Round, tapout by choke.


Middleweight Tourney: Prelim #1: Mark Modglin over Justin Herbt 2:37 1st Round, tapout by choke.
Prelim #2: Chris Jones over Jason Scouten 4:58 1st Round, tapout by choke.
FINALS: Chris Jones by default (injury to Modglin).


Light-Heavy Tourney: Prelim #1: Scott Shipman over Dave Morris :36 sec 1st Round, tapout by keylock.
Prelim #2: Layne McDaniels over Barry Wickware 1:29 2nd Round, doctor stoppage from cut.
FINALS: Scott Shipman over Layne McDaniels 1:26 1st Round, tapout by punches.


Heavyweight Tourney: Prelim #1: Eric Zent over Chad Hickey 2:22 1st Round, tapout by punches.
Prelim #2: Brian Eversole over Ed Myers 3:36 1st Round, tapout by choke.
FINALS: Brian Eversole over Eric Zent 1:00 2nd Round, tapout by choke.
LOCAL TOURNAMENT
Prelim #1: Josh Dailey over Michael Myers 3:51 1st Round, tapout by choke.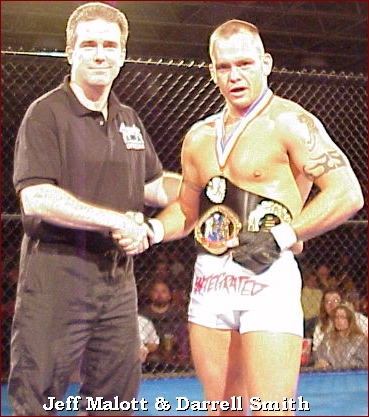 Prelim #2: Triston Bryant over Wayne Bogard fighter didn't answer 3rd Round bell.
FINALS: Josh Dailey over Triston Bryant :52 sec 1st Round, tapout by knee strikes.
ISCF Indiana State Amateur Middleweight Title Bout:
Darrell "The Bulldog" Smith (At Right - Being Presented ISCF Title Belt by CageRage's Jeff Malott) over Todd Kiser 2:25 1st Round, tapout by choke.
SUPERFIGHT BOUTS
Superbout #1: Nate Burris over Tim Heidenreich 4:56 1st Round, tapout by punches.
Superbout #2: Jay Martin over Jay Massey, 2:54 3rd Round, doctor stoppage due to cut.
Very good show with a very talented field of fighters. Congrates to Teams: Hammer House and Integrated Fighting who brought home a lot of gold. One notable fighter to mention was Scott Shipman of the Hammer House. He looks to be very dominating and a force to be reckoned with!!! For more information, contact: Donnie Michael at (765) 457-4083, (765) 457-4824, and dmkssd@aol.com (or) Terry Gruel at (765) 675-3454 and






---
MONDAY, October 22nd, 2001, AT 8:15 AM PT
Indiana Has A
New ISCF Champion!
Kokomo, Indiana, USA: We don't have all the results in yet but we do know who won the nights ISCF Title Fight at CAGE RAGE III at the Johanning Civic Center in Kokomo, Indiana, USA this last Saturday night. In a special notice sent out by Promotional Assistant Jeff Malott, the new ISCF Indiana State Amateur Middleweight Champion is Darrell "The Bulldog" Smith! The Bulldog won with a rear naked choke over former champ Todd Kiser at 2:25 of the 1st round. Look for a full report to be posted later thisweek on CAGE RAGE III!







---
FRIDAY, October 20th, 2001, AT 6:15 PM PT








Get Ready Indiana MMA Fans...
It's Time For More...






Todd Kiser Defends His ISCF Amateur Indiana State Middleweight Title Against Darrell Smith
The rage about CAGE RAGE III!
CAGE RAGE matches are all the RAGE because there is 1) A CAGE and 2) RAGE!!!
This Saturday night, current ISCF Amateur Amateur Indiana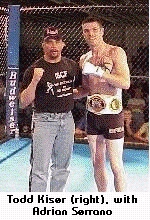 State Middleweight Champion Todd Kiser of Muncie, Indiana USA (6-1/4, 6'3", 177) will step into the CAGE to defend his ISCF Title against challenger Darrell Smith. Kiser won the title when he defeated Chad Wagoner of Burlington, Indiana by TKO in round 1 back in April of this year at CAGE RAGE II.
But lets not forget the simple formula that makes CAGE RAGE such a Success... A CAGE and RAGE!!! Once contestants step inside the cage, it is totally up to them to determine who is the toughest, most determined, and more skilled. Fighters utilize a wide array of techniques and disciplines to beat their opponents. They include boxing, karate, kickboxing, wrestling, and whatever gets the job done. This style of fighting was originally made famous in the Ultimate Fighting Championships often seen on cable or satellite pay TV.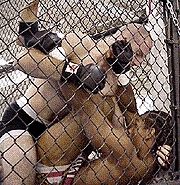 The Rules. Each opponent can use nearly any technique available to punch the other guy's ticket. However, there is no eye-gouging, kicks to the groin, etc. and victory is usually obtained with submission holds or knock outs. Or both.
The Fighters. CAGE RAGE III has a truly outstanding lineup of the some of the most feared and experience competitors in the country. Headlining the event is the scheduled appearance of Dan Severn, Tom "Big Cat" Erickson, Mark (The Hammer) Coleman, who is bringing three of his toughest fighters - and defending CAGE RAGE Middleweight Champion, Chad Wagoner. And there is an army of other great fighters who will compete in mixed martial arts at its best. So, come to the Johanning Civic Center on Saturday, October 20th, and watch them all in action up close and personal.
This great event has been brought to you by... Donnie Michael, Terry Gruel, Intensecombat.com, and the ISCF are the guys responsible for making this whole thing possible. Many other people and sponsors mentioned on this site have contributed to make CAGE RAGE III the event of the year. We urge you to thank and patronize these fine folks so they'll keep coming back for more.
TICKET INFO: Saturday, October 20, 2001, Johanning Civic Center, Kokomo, Indiana, USA. Start: 6:00 PM. General Admission: $20 Table: $35 Front Row: $55 Vendor Booths: $100. For tickets and entry information, contact: Donnie Michael at (765) 457-4083, (765) 457-4824, and dmkssd@aol.com (or) Terry Gruel at (765) 675-3454 and




















OCTOBER 20th 2001 6:0 - Johanning Civic Center, Kokomo, Indiana, USA - BE THERE!



















---
THURSDAY, October 11th, 2001, AT 5:40 PM PT
"Fight Night" Results!
FIGHT NIGHT AT HERBIE'S HIDEAWAY
Saturday, September 29th. Shaun Gay of Valdosta Martial Arts Center upped his mixed martial arts record to 6-2 at the Fight Night event, held at Herbie's Hideaway in Valdosta, Georgia, USA on Saturday, September 29th. Gay waded through the competition with submission wins by strikes and choke.
In the first fight of the Light Middleweight tournament, Gay, in the Red Corner, faced Lee Carter in the Blue Corner. Fighters circled each other, with Gay scoring the first punch followed by a stiff kick to the legs of Carter. Carter an experienced Aikido practitioner, quickly attempted to lock up with Gay and scored a takedown. Carter secured a Guillotine-type hold to effect the takedown. The two exchanged blows on the ground. Gay escaped the hold, and established a partial mount position over his opponent. Gay began a rally of lefts into his opponent's side. After Gay landed several solid punches, Carter was unable to continue and tapped out giving Gay the victory at 2 minutes and 2 seconds.
Gay faced Robby Van Allen in the final fight of the Light Middleweight tournament. Van Allen, a local boxer of deep experience, fought out of the Blue Corner. Gay started with a stiff kick to Robby's leg. Robby attempted to rush Gay with a flurry of punches, but slipped on the mat. The two exchanged a few blows, with Gay landing several solid blows. The two locked up, with Gay getting the advantage and applying a Guillotine choke as they were standing. Robby quickly taps out giving Gay his second submission win of the night at 38 seconds.
Other fights followed as listed:
Fight 1, Light Heavyweight - Jeremy Buckhalter Red Corner Vs Brent Simpson Blue Corner. Fight started slowly with Jeremy attempting the first kick that was blocked by Brent. The two combatants locked up with Brent coming out on top with a headlock. Both fighters went to the ground and exchanged several blows before being broken up by the Ref for being in the ropes, as Jeremy was working Brent in his guard. The fighters went back at it hard, with Jeremy landing two solid head shots which drew some blood. The two went back to ground and began exchanging more blows, but again got too close to the ropes. The Ref broke it up and accessed a 2-point penalty against Brent for using illegal elbows. The Ref called for the fighters to restart, but Brent who was visibly winded threw in the towel allowing Jeremy to take the victory. Winner Jeremy Buckhalter. Time 2 minutes and 17 seconds.
Fight 2, Super Heavyweight Richard Cox Red Corner Vs Wilfred Moore Blue Corner: The fighters circled each other and locked up, with Richard scoring the first takedown. Wilfred quickly reversed and maintained control until being broken up by the Ref for inactivity. Both fighters seemed to want to keep the fight on the ground, with Wilfred being able to control the fight. Both fighters attempted various submissions, with few punches being thrown. Richard put forth a good effort, but Wilfred did control the match. Fight went the 5-minute distance and the Judges rendered a unanimous decision in favor of Wilfred. Winner Wilfred Moore. Time 5 minutes.
Fight 4, Light Heavyweight Kevin Frederick Red Corner Vs Jack Bradish Blue Corner: Jack started out in a rather nonchalant manner, but quickly scored with a hard right to Kevin's head. There was a heavy exchange of punches by both fighters, with Jack dominating with a barrage of lefts and rights. Kevin tried a comeback only to be blasted with more rights by Jack, which landed solidly. The Ref stepped in to stop the fight and awarded the TKO victory to Jack. Winner Jack Bradish. Time 47 seconds.
Fight 6, Light Heavyweight Armen Serano Red Corner Vs Stoney Campbell Blue Corner: Armen came out quickly and scored a takedown. Stoney fought back to a standing position, but Armen maintained the headlock and took Stoney down again. The two stayed on the ground, but Stoney couldn't break Armen's hold, and eventually tapped out. Winner Armen Serano. Time 1 minute and 7 seconds.
Also on hand was Reality Super Fighting Super Heavyweight World Champion and International Sport Combat Federation East Coast Champion, Jonathan Wiezorek. Wiezorek, who looks to his first World Title defense on December 29th in Ft. Myers, Florida, commented that Valdosta Area local talent was considerable, given the quality of the fights at this event. This event was sanctioned by the International Sport Combat Federation (www.theiscf.com). It was refereed by local mixed martial arts fighter, Joel Weldon. Promoter and Herbie's Hideaway owner, Romain Spell, has planned the next Fight Night event for October 27th. For event and ticket info, please contact Mr. Spell at (229) 244-8414 or by E-Mail at ROMAINSPELL@YAHOO.COM