THURSDAY, Februaary 12th, 2009, AT 6:30 PM, PT
FINALLY
ISCF Is Official In Tennessee!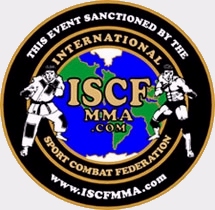 Tonight the ISCF was informed that the "Letter Mistake" in Tennessee has finally been corrected. Tennessee Commissioner Neil Frauwirth informed the ISCF tonight that the ISCF was officially approved in Tennessee during todays Tennessee Commission Meeting.
As reported in December here on the ISCF news page, (December 22nd, 2008) the on September 30, 2008 the Tennessee Athletic Commission had approved Four Amateur Sanctioning Organizations For MMA & Boxing. One of them was for boxing, USA Boxing and 3 others for Kickboxing and MMA which included the IKF, International Kickboxing Federation, WKA, World Karate Association and the ISKA, International Sport Kickboxing Association. However the letters ISCF were not listed as part of the accepted MMA organizations.
The original problem was created when someone associated with the Tennessee State Commission believed that the IKF operated as do other Kickboxing Sanctioning bodies such as the ISKA and WKA, where they sanction MMA under their "Kickboxing" Sanctioning Bodies. As everyone here knows, MMA is not Kickboxing so the IKF does not sanction MMA.
The IKF Sanctions KICKBOXING & MUAY THAI. HOWEVER, the IKF's Sister Organization, the ISCF, International Sport Combat Federation DOES sanction MMA. In fact, the ISCF was the first ever MMA Sanctioning Body in the world and is the Largest MMA Sanctioning Body in the World today.
According to the Commission, the IKF was approved as an Amateur "MMA" Sanctioning body in Tennessee. With this thought, the ISCF "Rules" were approved with the Commission, but promoters were told they had to use the IKF letters instead of the ISCF Letters as their sanctioning body. This explains why the ISCF letters and name were not included in the initial State of Tennessee press release issued back in October, about their approval of the Amateur MMA and Kickboxing Sanctioning bodies.