THURSDAY, June 14th, 2001, AT 10:30 AM PT
Georgia Legitimizes MMA Competition
MMA Gains Respect on the East Coast With ISCF!
By Cal Cooper
In what has been a banner year for the sport of Mixed Martial Arts, Georgia has become the latest source for good news. On 4-26-01 Governor Roy Barnes signed into law a bill (HB 538) which, in part, makes provisions for legitimate, legally operated MMA events. Georgia has previously been a back-and-forth battleground state for the acceptance of the misunderstood sport, and in fact this bill as it was originally introduced would have banned MMA altogether.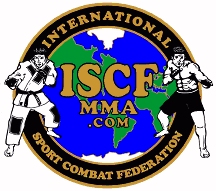 Fortunately, due to the efforts of MMA supporters in the state, legislators were contacted and changes were made to HB 538 which will allow legitimate events to proceed if they are sanctioned by the International Sport Combat Federation (ISCF), a mixed martial arts sanctioning body. ISCF is also a "sister organization" of the reputable kickboxing sanctioning body, International Kickboxing Federation (IKF). Effectively, this will allow Mixed Martial Arts promotions to operate in Georgia legally, as long as they are sanctioned or co-sanctioned with the ISCF. This is great news for Georgia and the entire sport of MMA.
Georgia's war over MMA fighting dates back to UFC XIII, which was held in Augusta, Georgia in 1997. At that time a published Georgia Attorney General's Opinion took the position that "ultimate fighting" would fall under the state Boxing Commission's authority, though this was not expressly enumerated in Georgia law. When UFC's parent company SEG did not apply for a license from the state Boxing Commission to promote UFC XIII, the A.G.'s office tried to enjoin the event, and prevent it completely, just days before the broadcast was set to begin. Balancing the relative harm to the two parties and determining that it would be inequitable to stop the event, the Superior Court in Augusta ruled that the event could go forward as scheduled. That ruling let UFC XIII come off as promised, but the issue of whether the Georgia Boxing Commission could exert authority over MMA in the Peach State, was still unresolved.
In 1998, Georgia law was changed to specifically remove "ultimate fighting" from the boxing commission's authority. This accomplishment was, in no small part, due to the efforts of current Assistant District Attorney Mike Carlson, (Right)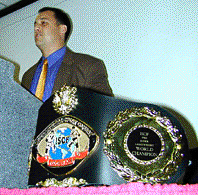 and former state Representative Robin Williams. It was a positive action for the sport at that time, but it left MMA officially unregulated. Ultimately, this would prove to have negative effects as well.
Legitimate and unscrupulous promoters alike could now use Georgia as a venue. Eventually, certain promoters of the latter ilk would incur the wrath of MMA supporters and state officials combined by blatantly ignoring obvious safety concerns and thumbing their noses at legitimate sanctioning bodies, such as ISCF. True mixed martial arts fans worst fears were realized when these actions lead to the first version of HB 538 being proposed. That version clearly would have made participating in MMA in Georgia a criminal offense!
The new bill, while making specific exemptions for sports like amateur boxing, made "unarmed combat" unlawful. (Unarmed combat was essentially defined as any activity in which 2 people strike each other in an attempt to cause injury, and where some profit in some way is gained from it.) The bill also included criminal sanctions for participating in "unarmed combat." Even after all of the years of struggle MMA has gone through to gain credibility, and after the tremendous positive support the sport has enjoyed in Georgia, "ultimate fighting" was specifically included as to what would constitute "unarmed combat". MMA was very close to being explicitly illegal in Georgia.
Fortunately for MMA fans, Georgia has an extensive network of MMA supporters. Other than myself, a journalist, and other well-known promoters here in the Peach State, there is one especially diligent watchdog who always seems to be in the right place to head off trouble: Augusta Georgia Assistant District Attorney Mike Carlson. Carlson, the same man who was present and ready to testify in support of SEG at the 1997 Augusta hearing, and who also participated in the effort to take MMA away from the Boxing Commission in 1998, was warned by several sources in the Georgia State Government that a bill was being introduced which could be trouble for legitimate promoters of MMA.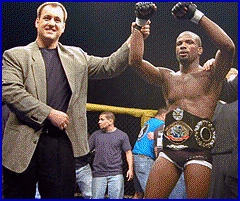 Carlson and this writer gathered information supporting the safety record of MMA versus that of other sports. Special thanks are in order to Dr. John Keating and Kevin "fightfan50" Lyons for their help in this matter. We prepared for a major offensive on behalf of the sport.
However, the support mixed martial arts has in Georgia is not to be underestimated. Amazingly, the safety statistics were not even needed. Coordinating with Georgia MMA's old ally Robin Williams, Carlson began mounting an "all out offensive" in the State assembly to keep MMA legal in his home state. Carlson working with open-minded representatives of both parties in the Georgia House and Senate, including Representative Ben Harbin and Senator Joey Brush of the Columbia County delegation and Richmond County Senator Charles Walker to champion the cause of MMA. He took the position that although certain irresponsible promoters had no place in Georgia, there were legitimate promoters, fans and athletes, who did participate in MMA responsibly who would be hurt by the proposed law. Carlson sought a provision to protect them.
After weighing several options, an amendment was made which provided that MMA competition, if in any way waged for profit, will be legal in Georgia, if and only if the competition is "approved, sanctioned, and/or endorsed " by the ISCF. This language was included in the final version of the bill, which was signed into law by Governor Barnes, and it opens the door to the progressive growth of MMA in Georgia for the foreseeable future.
Reactions to the new law have been overwhelmingly supportive.
James Corbett, a Valdosta, Georgia MMA and Kickboxing promoter who also worked with his area representatives in regard to HB 538 says, "The recognition of ISCF sanctions in Georgia occurred exactly as we had hoped. It is a huge stride for MMA nationwide. Wow." He adds, "I believe it costs about $100 to sanction a general ISCF event, which is really reasonable compared to some other sanctioning bodies."
ISCF President, Steve Fossum adds..."As many have seen with the ISCF's sister organization the IKF (IKFKickboxing.com) the success of any organization is about the concept of how well the TEAM works together. In this case, the team efforts of ISCF World Director Mike Carlson and the Georgia legislature have done something that will not only bring acceptance to the Mixed Martial Arts in the mainstream public, but also assure quality and safety to the fighters of Mixed Martial Arts Events in Georgia. As we grow, the ISCF TEAM will be joined by those looking to further the acceptance of Mixed Martial Arts around the world instead of searching to only satisfy their own personal gains. This work can be strongly supported by a credible, worldwide sanctioning body for the Mixed Martial Arts around the World."
Matthew Waller, Submission Fighting Open promoter says, "I am glad to see developments like this in Georgia. They will only serve to help the sport gain credibility and protect fighters from becoming involved in shady events. This is the kind of thing we need to present us as a legitimate sport in the public eye. "
When asked for comments, Brett Moses of Atlanta, Georgia, the promoter of Holiday Fight Party and MARS submitted the following. "In an 'ideal' world, every promoter would handle himself honorably. He would look out for the fighters' safety and live up to his contractual obligations. In an 'ideal' world as such, there would really be no need for sanctioning bodies. Reality check time, boys and girls...The ISCF enters our scene to act as a conscience to those continually cutting corners. With a reputable national sanctioning body in place, those dangerous few; the egotistical, morally deficient individuals who ignore consequences and endanger the future of both our sport and its participants, will be held in check. I applaud the Mike Carlson's of the world. His plate already overflowing as an Augusta, Georgia Assistant District Attorney and Martial Arts Academy owner, Carlson still manages to be in the right place at the right time, for mixed martial arts in Georgia.
After the bill was passed into law in late April, 2001, Michael Carlson himself had these words to say: "What should be most sobering to the MMA community is that the first version of HB 538 unequivocally outlawed the sport in Georgia. Fortunately, a bi-partisan compromise was presented to the legislature which maintains MMA's legal status, as well as ensures its positive growth in this state. The ISCF has been and will continue to be selective as to whom it allow to sanction here. Anyone one who knows how close MMA came to being eliminated will not ask "Why," and will applaud that position. At the same time, legitimate and credible promoters, and all others who are concerned with the positive development of the sport should be enthused. As a consequence of HB 538's passage, I foresee many promoters wanting to bring their events to Georgia. We have a tremendous body of fighters, great fans, and can assure promoters that, as long as their events are ISCF sanctioned, they will have not have to hire attorneys to 'fight city hall' in terms of resolving questions over the legality of MMA."
I, Cal Cooper, self-styled journalist and long-time supporter of this sport would like to add that I am thrilled to see this turn of events in our home state, and I am honored to have played a very small part in it. If it seems like Mike Carlson got a lot of recognition in this story, that's because he is the one who made the difference this time. We're lucky in Georgia to have someone like Mike who is not only a zealous martial arts enthusiast, but also an influential prosecutor. What we also have here is a deep fan-base for this sport. We have hundreds of athletes who live to train for MMA, and thousands more who do it otherwise. We have promoters who have presented some of the most elaborate shows ever produced. Most importantly I think, we have local promoters who present less elaborate shows like the Holiday Fight Party and the Submission Fighting Open, which at the grass roots level are what this sport is all about. Thanks to Mike Carlson, Steve Fossum, the ISCF, and to the huge, but close family of MMA in Georgia. You know who you are. Together we've done a great thing for our sport. It is something significant in the big picture. Now, let's enjoyit.
As Michael Carlson hinted in his remarks above, officials of the ISCF plan to approach major MMA promoters with invitations to hold their events in Georgia, which has venues of all sizes. Thanks to this fantastic turn of events, Georgia MMA fans can look forward to being right in the middle of MMA prosperity on the East Coast.
Promoters interested in holding MMA events in Georgia can contact ISCF at its web site at www.ISCFMMA.com or Mike Carlson at amaa@prodigy.net
Special Note: The ISCF and The IKF are currently working to do the same as done in the state of Georgia for Mixed Martial Arts in many other States in the United States.