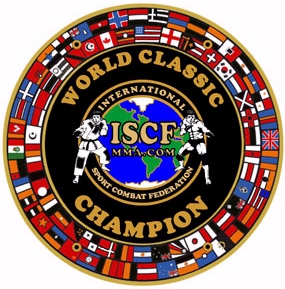 ISCF
MMA WORLD CLASSIC
AMATEUR MMA TOURNAMENT



WHO MAY PARTICIPATE IN THIS TOURNAMENT



ONLY "AMATEUR" Men & Women Fighters are allowed to participate in the ISCF World Classic AMATEUR MMA Tournament. Amateurs are fighters who have NEVER been paid a "Fight Purse" for their fighting. If you have fought before and do not know if your bout was a Pro or Amateur bout, please check your name at the confirmed fighter database site by clicking HERE. Simply type in your name and hit "Enter" on your computer keyboard. After you hit "Enter", a list of fighters names will appear or your name will appear. Click on your name and see what the database has you listed as. If you have a PRO fight listed than you are considered a PRO Fighter and cannot fight in this tournament or any other AMATEUR bout.
Some people do not know what an AMATEUR fighter is. As for the ISCF definition of an amateur fighter, it is the same as the IKF Kickboxing and all other Boxing Commissions. To read more about this go to these sites:
'AMATEUR' IN MARTIAL RING SPORTS
Know the Difference Between Amateurs And Pros!
---
There are TWO Men's Divisions

OPEN DIVISION
This is for fighters who have MORE THAN THREE "MIXED MARTIAL ARTS" bouts.


NOVICE DIVISION
Fighters who have not had more than THREE "MIXED MARTIAL ARTS" bouts CAN register for the NOVICE division.
There is ONE Women's Divisions

OPEN DIVISION
This is for ALL Women fighters.
---