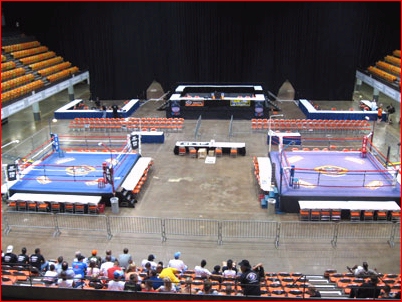 2008
ISCF MMA WORLD CLASSIC
AMATEUR MMA TOURNAMENT

VENUE INFORMATION
ISCF MMA WORLD CLASSIC MAIN PAGE
The actual Tournament Location will be the
US CELLULAR CENTER
ARENA
Located just down the hallway from the Host Hotel.
---
The US Cellular Center (One of the Two Rings Shown at right inside the Arena during the 2003 IKF Tournament held here and the 2006 IKF World Classic above right) is a beautiful 28,000 square foot "Stadium Seating Arena" which has held the title of the FINEST Venue we have ever had over all the years of the tournament.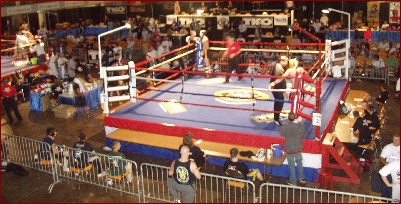 There is a total of 16,200 square feet on the actual arena floor, and add in the Stadium Seating area and there is plenty of seating for spectators. It is one of the most impressive entertainment venues in the Midwest.
It also has 4 locker rooms for the participants and plenty of warm-up area surrounding the outside of the arena bowl.
As far as sporting events, in the past it has hosted the
UFC, Taekwondo Nationals and many Wrestling Championships and even WWF wrestling (Now WWE), not to mention many stars like the Harlem Globetrotters as well as concerts including KISS, Prince, Stevie Ray Vaughn, Amy Grant, Diana Ross, Pantera, Motley Crue, Alan Jackson, Brooks & Dunn, Styx, AC/DC, Tim McGraw and Faith Hill, Diamond Rio, Martina McBride, Gaither Homecoming, Barry Manilow, Chicago, Bon Jovi, Blue Collar Comedy, Chicago, Beach Boys and Bob Dylan.

ABOVE & BELOW: The US Cellular Center During a Wrestling Tournament