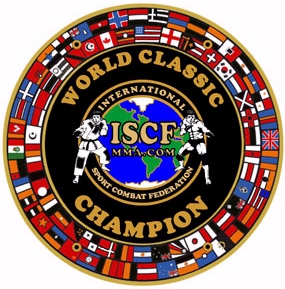 ISCF
AMATEUR MMA WORLD CLASSIC
TOURNAMENT




ADS & SPONSORSHIP
---
DON'T MISS THE DEADLINES!!!

PROGRAM AD DEADLINE: MONDAY, NOVEMBER 2nd, 2009

VENDOR BOOTH DEADLINE: WEDNESDAY, NOVEMBER 4th, 2009

WALL BANNER DEADLINE: WEDNESDAY, NOVEMBER 4th, 2009

SPONSORSHIP DEADLINE: WEDNESDAY, NOVEMBER 4th, 2009
---
Attention Desired
SPONSORS
Schools, Trainers, Fighters & Proud Parents...
Don't Miss Your Chance At Being Part Of The
First Annual ISCF Amateur MMA WORLD CLASSIC Tournament!
The ISCF Graphics Department will produce The ISCF World Classic Program Book. The Program will have vital information about the event, major sponsors and words or encouragement along with a listing of ALL the Fighters in the event! Its a great way to make your company or school stand out from the rest! Hundreds of these beautiful programs will be made for this year's Tournament and will be available to all attending this great event.
Try some of these great ideas to encourage and let your fighters know they have your support..."Go for the Gold!" - "You're the Best!" - "Win or lose, You're Always Our Champion!" - Create your on way of saying, they have your support!
Also, place ads for your Company, schools, gyms, clubs, seminars, events and MORE!
This is a GREAT Opportunity to have the "Who's Who" of the ISCF read about You, Your Company, Your School, Gym or Club, WHO you are, WHAT you DO and WHAT you DO!
Take advantage of this great way to wish your favorite Amateur fighter the best of luck or to advertise at the very first, 2009 ISCF Amateur MMA World Classic Tournament.
Call today to take out your Ad in the 2009 ISCF Amateur MMA World Classic Tournament Program Booklet... Its going to be a knockout!
See ad prices Below. For ad placements contact Toni at the ISCF Headquarter at: (916) 663-2467 or by e-mail at tfosterg@earthlink.net

For Larger Sponsorship Such As
Event "NAMING" Sponsor
Or
Cage Logo Sponsorship

Please Contact ISCF Directly
(916) 663-2467 or e-mail at: info@iscfmma.com



Below are General Event Sponsorship and Advertising Options




Program Ads

In The 2009 ISCF Finals Event Program. All artwork and fees must be received at the ISCF Headquarters by the Deadline noted Above.

Please mail all artwork and fees to: ISCF Tournament Program, P. O. Box 1205, Newcastle, CA, 95658. Please send all Artwork in a tif or jpg file or Camera Ready Art. For Program ads that require design work there will be an additional charge. Program ads are all Black and White except for the back cover. One program page is 8 & 1/2 X 11" in size. (Regular sheet of paper)

AD COSTS
Business Card: $50.00 - Black & White
1/4 Page $100.00 - Black & White
1/2 Page $200.00 - Black & White
Inner Front or Back Page: $400 - Black & White
Full Page Inside: $350.00 - Black & White
Back Page (-1- Full Color) $500.
Please call for availability before sending artwork and fees.


Vendor Booths

Booth space will be available at this years event for the fee of $300 for a 10' X 10' space or $500.00 for a 10' X 20' space for the weekend.

To register your booth, please contact the ISCF at (916) 663-2467 or e-mail at:
info@iscfmma.com
This sponsorship includes
6 Ringside Passes
for the Weekend.


Wall Banner Ads

Advertise your company at the event with a Wall Banner. The cost if you have your own banner (3' x 10' maximum) is $200.00 for the full weekend.

If you need us to make your banner, the cost is $300.00 (3' x 10').
This sponsorship includes
2 Ringside Passes
for the Weekend.

For info, contact us directly at (916) 663-2467 or e-mail at:
info@iscfmma.com




Please mail all fees to: ISCF CLASSIC SPONSOR
P. O. Box 1205, Newcastle, CA, 95658.
Please send all Artwork in a tif or jpg file or Camera Ready Art.
For more info, Please contact the ISCF at (916) 663-2467 or e-mail at: info@iscfmma.com

---