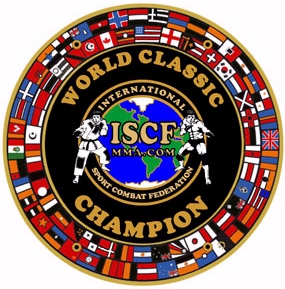 2007
ISCF/JACK9
MMA WORLD CLASSIC
AMATEUR MMA TOURNAMENT



SCHEDULE OF EVENTS



FRIDAY, April 27th

2:00 PM to 6:00 PM: Check-In & Weigh-Ins
US Cellular Center Arena

Your first task will be Check In. At this location we will need to see:

Your Photo ID (Drivers License)
Blood Work This is not needed for the tournament since it was announced late.

"BE PROFESSIONAL" and make your weight.
You MUST make the weight you are scheduled to fight in. If you do not make your weight, you will be allowed to LOSE weight, but NOT Gain weight to make your weight division. Here are the weight divisions:

Bantamweight 125.1 to 135 lbs.
Featherweight 135.1 to 145 lbs.
Lightweight 145.1 to 155 lbs.
Welterweight 155.1 to 170 lbs.
Middleweight 170.1 to 185 lbs.
Light Heavyweight 185.1 to 205 lbs.
Heavyweight 205.1 to 265 lbs.
Super Heavyweight 265.1 lbs. & Above

If you need to lose weight, you will be given until 6:PM Sharp to make your weight.
We will begin weighing fighters in at 2:00 PM on Friday.
This will be on a first come first serve basis.
Make sure you have your physical done after you weigh-in.
You will be directed to the medical area directly after you weigh-in.
You need to attend the rules meeting which will be after the FREE Dinner Banquet.


All Trainers Passes must be purchased at this time.


ALL Late Fees must be paid at this time unless already paid for.


SPECIAL NOTE: If you are not weighed in AND Finished with your Physical by 6:00 PM, you will be dropped from the Tournament.
BE HERE EARLY To get everything Done Please.


---
6:15 PM-8:PM Friday Evening: Dinner, Rules Meeting & Welcome Banquet
FREE DINNER!
Attendees WELCOME Dinner - Sponsored By JACK9.com
FREE TO ALL Paid & Registered Fighters, Trainers & Event Officials/Staff.
HOTEL BALLROOM: Name of room announced as you register.

Chicken Breast, Pasta with Marinara and Alfredo Sauce, Salad, Bread sticks and Dessert.
Everyone will meet in this room at 6:15 PM. At this time, we will do a "Quick" (5 minute) welcome to the event and waste no time to let everyone EAT!
7:00 PM: Welcome introductions & presentation of special awards.
7:15 PM: Tournament Rules Meeting.
7:30 PM: Fighters draw - Where the bout matches are determined by open "Hat Draw".
All of this should be done about 8:00 PM.
The Officials rules meeting will follow at 8:15 PM in the Monarch Room.
8:15 PM - 9:15:PM: Friday Evening: Officials Seminar

FREE to Fighters, Trainers, Officials & Event Staff. Attendance Limited:
Register at weigh-ins. This will take place in The Monarch Room Located in the Hotel.


By 11:PM: Fight Schedule Posting

Saturday Fight schedule will be posted outside the Elevator Hallway of the Crowne Plaza Hotel.
Fights will go in order of weight class, Lightest Weights First and Up.
We will use 2 cages.
One cage for the Novice Fighters, one for the Open Fighters.
---
"MMA Fight To Survive!"
The Road To The Title! - SATURDAY, April 28th
We Will Have "TWO" Cages Set Up for The Prelims.

10:10 AM: Officials Fight Assignments.


10:20 AM: Bouts Begin

ALL FIRST ROUND OF BRACKETS WILL BE FOUGHT DURING THE DAYTIME.
- Fighting For their way to the Title Bout!

There will be approximately 40 Prelim Fights during The Day Session.


3:00 PM: "Approximately" - Saturday schedule ends.


OFFICIALS MEETING: Held directly after the Saturday bouts end - appointment of Saturday Night Event Officials.
---
"Jack9 MMA Breakdown!
Night of The Champions - SATURDAY NIGHT, April 28th
We Will Have "ONE" Lighted Cage Set Up.

ALL FIGHTERS WHO ADVANCE TO THE SECOND ROUND OF ACTION WILL FIGHT SATURDAY NIGHT!
There will be between 15-22 fights on Saturday night as we "Break Down" the final contenders as they fight their way to the Title Bout!
Doors will open at 7:10 PM.
Fights would begin at 7:45 PM.
Fights will go in order of weight class, lightest weights and up.
Admission for Trainers, Fighters and Tournament Officials will be FREE.
Admission for non Tournament Participants CLICK HERE!
DIRECTLY AFTER NIGHT EVENT ENDS: Within 2 hours after, the Sunday Fight Schedule will be posted in the same location as above.



---
JACK9's X-Fight Club!
4-24-07: THIS WAS MOVED TO SUNDAY AFTERNOON!
---
"MMA Day of The Gladiators!"
CHAMPIONSHIP SUNDAY, Sunday, April 29th
We Will Have "ONE" Lighted Cage Set Up.

The Final 2 Fighters in Each Weight Division will fight for The ISCF/Jack9 Tournament title Belts!
TIME HAS BEEN MOVED UP
9:15 AM: Doors OPEN


9:45 AM: Officials Check-ins & Fight Assignments.


10:00 AM: The Beginning of the 12 CHAMPIONSHIP Bouts!


Between 12 & 1:00:PM: Sunday schedule ends. Possibly sooner or later
---
On 4-24-07 This Event was MOVED TO SUNDAY Afternoon.


Beginning at Approximately at 2:00 PM


JACK9's X Fight Club!

This event was moved by the request of many so that more could attend as well as participate. The production crews from the ISCF, IKF and Jack9 will be taking advantage of having a full film crew at the event along with all the athletes, officials and others to shoot some pilot footage of some real fights of a new fighting style..
Some of the Fighters who participated in the ISCF/Jack9 MMA classic (other than those who lost their tournament bouts due to KO, TKO or severe injury) along with some other Pre-Approved Amateur fighters who can make it to the event but are not in the Tournament will take part in a special filming of what ISCF, IKF and "Jack9 are calling X Fight Sports!
We will be filming REAL FIGHT Footage for Two TV Pilots that will be submitted for a proposed X Fight Sports TV Program.
The footage needed will be REAL Fights as requested by a particular TV Network.
These particular bouts we will be filming on this night will ALL be AMATEUR KICKBOXING Bouts.
We hope to film about 6 bouts.
All these bouts will be done under a new "IKF" Rule Style entitled "XG" which is short for Xtreme Gladiators.


For complete info about the XG Fighting for X Fight Club

CLICK HERE!
---
But Wait....

When the above bouts are done, Jack9 will also be filming a 3rd Style, FOR FUN for a totally different show!
What is it? Well...We will have to wait to fill you in at Dinner on Friday night! - For a hint, it's not MMA, Kickboxing or Boxing.
---